Flint River Ranch
Made in the USA
NO Recalls Ever!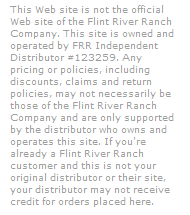 FREE Shipping to Your Door!

FRR Adult & Puppy
A highly nutritious canine diet with choice proteins and amino acids for growth and wellness

FRR Trout & Potato
A super tasty unique "Fish & Chips" diet to promote healthy skin, coat, & total wellness

FRR Salmon & Potato
A new ultra premium grain-free salmon dog food ideal for allergy- and food-sensitive dogs.

FRR Duck & Oatmeal
A new addition in our Signature Brand line of reduced / grain-free premium dog foods

FRR Lamb & Rice
An ultra premium wheat-free dog food ideal for allergy- and food-sensitive dogs.

FRR Senior PLUS
With Glucosamine and Chondroitin Sulfate to help older dogs or dogs with arthritis

FRR Nugget Formula
A larger sized, nugget-shaped version of our original formula for larger breed dogs

FRR Essential Greens
A delicious and healthy all natural pet food supplement for both dogs and cats!
Flint River Ranch Essential Greens is a delicious, super healthy, all natural supplement for both dogs and cats!
Flint River Ranch Essential Greens for pets was formulated using the "essence" of the Flint River Ranch Dry Water formula but with more nutritional ingredients to allow it to do so much more! Flint River Essential "Greens" can be added to any pet food formula as a food topper (makes a delicious gravy or dry) and supplement, and is a healthy, all natural supplement for both dogs and cats!
Essential Greens serves as a health and vitality supplement that will:

Help reduce tartar build up and freshen breath (Atlantic Sea Kelp, Spirulina)


Improve Skin & Coat (Vitamins, Minerals, Omegas)


Boost the immune system and recovery of health-related issues


Aid your pet with better digestion


Increase the energy and vitality with your pet by improving its ability to absorb all needed nutrition

Essential Greens ingredients of note include:
Alfalfa Leaf: Alfalfa, a legume and member of the pea family, is a good source of many nutrients including protein, fiber, trace minerals and vitamins A, B1, B12, C, D, E, and K

Atlantic Sea Kelp:
Contains an abundant source of minerals, amino acids and vitamins, including essential trace minerals. These nutrients are necessary for the production of enzymes that promote healthy body functions. Kelp contains over 70 minerals and elements and 21 amino acids
Barley Grass:
Delivers natural enzymes, amino acids, chlorophyll, trace minerals and more
Blue, Green Algae:
Aids in digestion, is high in antioxidants and helps to detoxify the body
Borage Seed Oil:
Source of Omega 6
Burdock Root:
A strong blood purifier and cleanser, burdock root has been used to neutralize and eliminate toxins in the system
Chia Seed:
High levels of antioxidants and Omegas. Helps to balance blood sugar and is a source of Omega 3 Fatty Acids
Chlorella:
Seaweed high in Vitamins A & C, as well as Iron and calcium
Dried Berries (cranberry and blueberry):
High in antioxidants
Green Peas:
High in Vitamin A, C and iron
Green Tea Extract (source of EGTg):
High in antioxidants to boost the immune system. Helps increase energy
Inulin from Chicory Root:
Prebiotic, aids in digestion and absorption of nutrients
L-Carnatine:
An important nutrient that acts as a transport for fatty acids, essential for the cellular production of energy and it helps to maintain a healthy weight as well.
Marine Algae:
High in Vitamin C and antioxidants to help boost the immune system
Organic Zinc Supplement:
Helps repair damaged tissues and heal wounds
Pineapple Stem (source of Bromelain):
Aids in digestion and contains high amounts of antioxidants
Rare Earth Blend (Montmorillionite and Diatomaceous Earth):
Natural sources of over 70 vitamins/minerals, helps to detoxify the body and DE to help control & eliminate intestinal parasites.
Rice Bran:
Very high in iron and a good source of fiber. Also contains zinc, copper, potassium, thiamin, niacin, Vitamin B6, magnesium, phosphorus, manganese and pantothenic acid
Spirulina:
Frankly this is just nature's "Superfood"! It is high in antioxidants boosts the immune system and helps detoxify the body and reduce stress. Also helps with dental health in improving digestion.
Taurine:
An Essential amino acid for cats and non-essential (but still required) for dogs. Helps to promote a healthy heart and eyes. Especially good for dogs with heart disease
Wheat Grass:
Assisting the blood flow, helping with the digestion process and body detoxification, which in turn can reduce cancer risk. The enzymes, minerals and vitamins that are contained within wheatgrass help the body deconstruct protein. It also is an anti-inflammatory.
Guaranteed Analysis
Protein: Minimum 20%. Fat: Minimum 10%. Moisture: Maximum 10%. DHA Omega-3: 16mg. ALA Omega-3: 91.2mg. LA Omega-6: 104.8mg. Potassium: 24.40mg. Calcium: 358.8mg. Iron: 0.93mg. Zinc: 0.54mg.
Ingredients
Chia Seed (source of ALA Omega-3), Barley Grass Juice Concentrate, Wheat Grass Juice Concentrate, Alfalfa Leaf, Atlantic Sea Kelp, Dehydrated Green Peas, Rice Bran, Chicken Liver, Marine Algae (source of DHA Omega-3), Spirulina, Cranberry, Blueberry, L-carnatine, Borage Seed Oil (source of GLA Omega-6 with Vitamin E and Rosemary Oil as natural antioxidants), Inulin from Chicory Root, Broccoli, Ascorbic Acid (Vitamin C), Taurine Amino Acid, Dehydrated Tomato (not pomace), Rare Earth Clay, Xanthan Gum, Guar Gum, Blue Green Algae, Chlorella, Burdock Root, Pineapple Stem (Source of Bromelain), Spinach, Sunflower Seed Oil, Green Tea Extract (source of EpiGalloCatechinGallate (EGCg) antioxidant), Rosemary Herb and Sage Herb.
Order Essential Greens Dog Food Now
| | | | |
| --- | --- | --- | --- |
| FRR Code | Essential Greens | Price | Add to Cart |
| GREENS | 12.69 oz. (360 grams) | $29.99 | |
---
The Flint River Ranch Commitment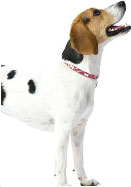 All Flint River Ranch healthy dog foods are proudly made in the USA in our state-of-the-art facility in Southern California using the highest quality human-grade ingredients with absolutely NO by-products, chemical preservatives, artificial additives, or unnecessary fillers that you'll find in most brands of dog food.
Our ultra premium oven-baked dog foods are carefully blended with the very finest of ingredients, with the ideal ratio of human-grade meat proteins, fruits & vegetables, vitamins, herbs, and minerals to assist with all the stages of your dog's growth, development, and healthy lifestyle. All of our formulas exceed the nutrient guidelines established by the AAFCO.
Flint River Ranch Dog Foods Flint River Ranch Dog Treats Flint River Ranch Cat Foods