Flint River Ranch
Made in the USA
NO Recalls Ever!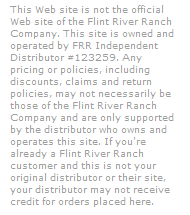 FREE Shipping to Your Door!
This is by far the best product I've found on the market. I am pleased to say that my dogs love the Senior Kibble Plus formula! Joanie K.
The Flint River Ranch dog food that I ordered is outstanding. I have never seen my dog enjoy her food like this! James W.
Flint River Ranch all natural dog foods and cat foods are proudly made in the USA using the highest quality home grown, human-grade ingredients with absolutely NO by-products, chemical preservatives, artificial additives, or unnecessary fillers that you'll find in most brands of dog food.
Flint River Ranch Original Adult & Puppy Dog Food

Flint River Ranch
Adult & Puppy Dog Food

A highly nutritious canine diet with choice proteins and amino acids for growth and wellness throughout all of your dog's life stages

| | | | |
| --- | --- | --- | --- |
| DOG10 | 10 lb. Bag | $26.49 | |
| DOG20 | 20 lb. Bag | $41.49 | |
| DOG40 | 40 lb. (2 20# Bags) | $75.49 | |
| DOG200 | 200 lb. (10 20# Bags) | $364.99 | |
---
Flint River Ranch Lamb & Rice Dog Food

Flint River Ranch
Lamb & Rice Dog Food

An ultra premium wheat-free dog food with the finest ingredients that is particularly ideal for allergy- and food-sensitive dogs

| | | | |
| --- | --- | --- | --- |
| LMR10 | 10 lb. Bag | $29.49 | |
| LMR20 | 20 lb. Bag | $46.69 | |
| LMR40 | 40 lb. (2 20# Bags) | $85.49 | |
| LMR200 | 200 lb. (10 20# Bags) | $412.99 | |
---
Flint River Ranch Trout & Potato Dog Food

Flint River Ranch
Fish & Chips Dog Food

A super tasty unique Rainbow Trout & Sweet Potato "Fish & Chips" dog food diet to promote healthy skin, coat, and total wellness

| | | | |
| --- | --- | --- | --- |
| FNC10 | 10 lb. Bag | $29.49 | |
| FNC20 | 20 lb. Bag | $46.69 | |
| FNC40 | 40 lb. (2 20# Bags) | $85.49 | |
| FNC200 | 200 lb. (10 20# Bags) | $415.99 | |
---
Flint River Ranch Salmon & Potato Dog Food

Flint River Ranch
Salmon & Potato Food

A new ultra premium grain-free salmon dog food ideally formulated for allergy- and food-sensitive dogs

| | | | |
| --- | --- | --- | --- |
| GFDS9 | 9 lb. Bag | $30.99 | |
| GFDS20 | 20 lb. Bag | $51.99 | |
| GFDS40 | 40 lb. (2 20# Bags) | $92.49 | |
| GFDS200 | 200 lb. (10 20# Bags) | $444.99 | |
---
Flint River Ranch Duck & Oatmeal Dog Food

Flint River Ranch
Duck & Oatmeal Food

A new addition in our Signature Brand line of reduced / grain-free premium dog foods, with healthy duck, oatmeal and potato

| | | | |
| --- | --- | --- | --- |
| DUCK10 | 10 lb. Bag | $33.49 | |
| DUCK20 | 20 lb. Bag | $54.49 | |
| DUCK40 | 40 lb. (2 20# Bags) | $99.49 | |
| DUCK200 | 200 lb. (10 20# Bags) | $478.99 | |
---
Flint River Ranch Senior PLUS Lite Dog Food

Flint River Ranch
Senior PLUS Dog Food

Adds Glucosamine and Chondroitin Sulfate to our Senior Lite dog food formula to help dogs with joint and arthritis-related issues

| | | | |
| --- | --- | --- | --- |
| PLUS10 | 10 lb. Bag | $26.99 | |
| PLUS20 | 20 lb. Bag | $42.99 | |
| PLUS40 | 40 lb. (2 20# Bags) | $78.99 | |
| PLUS200 | 200 lb. (10 20# Bags) | $376.99 | |
---
Flint River Ranch Nugget Dog Food

Flint River Ranch
Nugget Dog Food

A larger sized, nugget-shaped version of our original dog food formula for medium, large, and giant breed puppies and adult dogs

| | | | |
| --- | --- | --- | --- |
| NUG20 | 20 lb. Bag | $41.49 | |
| NUG40 | 40 lb. (2 20# Bags) | $75.49 | |
| NUG200 | 200 lb. (10 20# Bags) | $364.99 | |
---
Flint River Ranch Essential Greens

Flint River Ranch
Essential Greens for Pets

A delicious and healthy all natural pet food supplement for pets that can be served with water or as a pet food topping

| | | | |
| --- | --- | --- | --- |
| GREENS | 12.69 oz. (360 grams) | $29.99 | |
---
Flint River Ranch Bone-Shaped Dog Biscuits

Flint River Ranch
Signature Dog Biscuits

Tasty bone-shaped dog snacks that help to maintain strong teeth and fresh breath for a happy, healthy, and satisfied pup

| | | | |
| --- | --- | --- | --- |
| BON5 | 5 lb. Bag | $23.99 | |
| BON10 | 10 lb. (2 5# Bags) | $36.99 | |
| BON20 | 20 lb. (4 5# Bags) | $59.99 | |
---
Flint River Ranch Jubilee Wafer Treats

Flint River Ranch
Jubilee Wafer Treats

Offers natural joint-lubricating Glucosamine and Chondroitin Sulfate to help aid the mobility of arthritic, older, or less active dogs

| | | | |
| --- | --- | --- | --- |
| JW5 | 5 lb. Bag | $23.99 | |
| JW10 | 10 lb. (2 5# Bags) | $36.99 | |
| JW20 | 20 lb. (4 5# Bags) | $64.99 | |
---
Flint River Ranch Lamb & Rice Wafer Treats

Flint River Ranch
Lamb & Rice Wafers

Super premium wheat-free Lamb & Rice dog treats with all natural ingredients that are great for food allergy and stomach-sensitive dogs

| | | | |
| --- | --- | --- | --- |
| LMW5 | 5 lb. Bag | $24.99 | |
| LMW10 | 10 lb. (2 5# Bags) | $37.99 | |
| LMW20 | 20 lb. (4 5# Bags) | $62.49 | |
---
Flint River Ranch Trout & Potato Wafer Treats

Flint River Ranch
Fish & Chips Wafers

Ultra premium wheat-free "Fish & Chips" dog treats with all natural ingredients that are great for food allergy and stomach-sensitive dogs

| | | | |
| --- | --- | --- | --- |
| TPW5 | 5 lb. Bag | $23.99 | |
| TPW10 | 10 lb. (2 5# Bags) | $36.99 | |
| TPW20 | 20 lb. (4 5# Bags) | $59.99 | |
---
Flint River Ranch Tender Lovin's Chicken Jerky Dog Treats

Tender Lovin's Chicken Jerky Dog Treats

Tender Lovin's Chicken Jerky dog treats are tasty, all natural, smoked chicken jerky treats extremely low in fat and high in protein

| | | | |
| --- | --- | --- | --- |
| JERKY | (2) 8 oz. Bags | $29.99 | |
---
Flint River Ranch Bully Sticks for Dogs

Flint River Ranch
Bully Stick Dog Chews

Oven-baked Bully Stick dog chews from free range, grass fed cattle are low-fat, low-calorie dog treats that leave no odor and no mess

| | | | |
| --- | --- | --- | --- |
| 6BS6 | (6) 6" Bully Sticks | $21.99 | |
| 3BS12 | (3) 12" Bully Sticks | $22.99 | |
---
Flint River Ranch Braided Pizzle Sticks for Dogs

Flint River Ranch
Braided Pizzle Sticks

Free range, grass fed steer pizzles braided together into a 7" pizzle dog chew treat that's low in fat and high in protein

| | | | |
| --- | --- | --- | --- |
| PIZ6 | (6) 7" Braided Pizzles | $34.99 | |
---
Flint River Ranch Toobles Dog Chews

Flint River Ranch
Toobles Dog Chews

USDA-inspected trachea dog chews treats that have been slow roasted to perfection &mbdash; won't splinter and leaves no mess!

| | | | |
| --- | --- | --- | --- |
| TOOB10 | (10) 8" - 9" Toobles | $25.99 | |
---
Flint River Ranch Deer Antler Chews for Dogs

Flint River Ranch
Deer Antler Dog Chews

A long-lasting, completely all natural chew treat for your dogs that won't splinter and leaves no mess on your carpets!

| | | | |
| --- | --- | --- | --- |
| PA6 | (6) Petite - Up to 15lbs | $22.99 | |
| SA6 | (6) Small - Up to 25lbs | $33.99 | |
| MA3 | (3) Medium - Up to 50lbs | $26.99 | |
| LA3 | (3) Large - Up to 80lbs | $33.99 | |
| JA3 | (3) Jumbo - Up to 100lbs | $40.99 | |
| XJA3 | (3) Extra Jumbo | $49.99 | |
---
Flint River Ranch Grain-Free Adult & Kitten Cat Food

Flint River Ranch
Grain-Free Cat Food

A highly nutritious no-grain feline diet with choice proteins and amino acids for growth and wellness throughout all of your cat's life stages

| | | | |
| --- | --- | --- | --- |
| GFC9 | 9 lb. Bag | $37.99 | |
| GFC20 | 20 lb. Bag | $66.99 | |
| 4GFC9 | (4) 9 lb. Bags | $120.99 | |
| GFC40 | 40 lb. Bag | $122.99 | |
| GFC200 | 200 lb. Bag | $585.99 | |
---
Flint River Ranch Bonita Flakes Cat Treats

Flint River Ranch
Bonita Flakes

A taste delicacy your cats will go crazy for! Our 100% Bonita Fish flakes are a very light and tasty healthy treat for cats of all ages

| | | | |
| --- | --- | --- | --- |
| BFLAKES | 1 oz. Bag | $7.99 | |
| 2xBFLAKE | (2) 1 oz. Bags | $13.99 | |
| 4xBFLAKE | (4) 1 oz. Bags | $25.99 | |
| 6xBFLAKE | (6) 1 oz. Bags | $37.99 | |
---
Flint River Ranch Catnip & Bonita Flakes Combo Pack

Catnip & Bonita Flakes Combo Pack

The purrfect gift pack for cats features three catnip toys, catnip oil spray and every cat's favorite, Bonita Flakes treats!

| | | | |
| --- | --- | --- | --- |
| CATPK | Combo Gift Pack | $23.99 | |
---
Pet Force Pet Stain Remover & Odor Eliminator

Pet Force
Stain & Odor Remover

Effectively breaks down and permanently eliminates pet stains and odors from urine, feces, vomit, food and more

| | | | |
| --- | --- | --- | --- |
| PFCOM | 32 oz and 16 oz bottles | $19.99 | |
---
Flint River Ranch Dog Foods Flint River Ranch Dog Treats Flint River Ranch Cat Foods