Flint River Ranch
Made in the USA
NO Recalls Ever!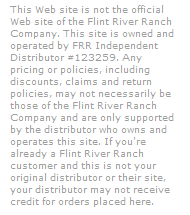 FREE Shipping to Your Door!
This is by far the best product I've found on the market. I am pleased to say that my dogs love the Senior Kibble Plus formula! Joanie K.
The Flint River Ranch dog food that I ordered is outstanding. I have never seen my dog enjoy her food like this! James W.

Interested in additional income?
There is no buy-in fee required to become a Flint River Ranch Independent Distributor. If you are interested in the potential of earning additional income, contact us today at distributor at ffrr.com. We'll be happy to share our experience with you and help you get started with becoming an independent distributor.
Distributors are self-employed business people, independent contractors who derive income from commissions and bonuses. Distributors approach their business venture in their own way — some earning part-time income and others developing a large customer base. Successful distributors understand that success and compensation are directly related to individual productivity. Any business requires hard work on a consistent basis.
Distributors do what they do best — introduce healthier all natural dog foods and cat food to interested pet owners. They are not required to maintain inventory. All the administrative and operational services are provided by Flint River Ranch.
Here are some helpful printable distributor forms to learn more about becoming a distributor for Flint River Ranch and to get started today.
Flint River Ranch Dog Foods Flint River Ranch Dog Treats Flint River Ranch Cat Foods