Flint River Ranch
Made in the USA
NO Recalls Ever!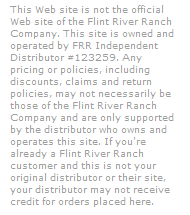 FREE Shipping to Your Door!
This is by far the best product I've found on the market. I am pleased to say that my dogs love the Senior Kibble Plus formula! Joanie K.
The Flint River Ranch dog food that I ordered is outstanding. I have never seen my dog enjoy her food like this! James W.

Flint River Ranch utilizes UPS for home delivery of its pet foods and strives to ensure you receive the freshest dog foods and cat foods in the shortest possible time at the most affordable prices.
Shipping and handling costs are already included in the prices for all Flint River Ranch pet foods and products. We strive to process and ship all orders received before noon within 24 hours. Orders are shipped from the closest of fifteen Flint River distribution centers, and average delivery time after UPS pickup is between 1 - 4 business days (average delivery times by state).

Orders received on weekends or on holidays are invoiced and shipped the next business day. Cut-offs for UPS daily pickups is typically 3pm. With some remote delivery points, UPS may schedule delivery only once or twice a week. Please order in advance of need and allow sufficient time for delivery. If not at home, UPS will try several times to make delivery. In some cases, depending on the area, UPS will leave packages at your door; otherwise, they will leave a note or mail you a notice of attempted delivery. With no response in 5 days, UPS will return packages to our warehouse.
Flint River Ranch pays for shipping per UPS Ground. If you need an expedited delivery, you may choose, next day - must be arranged by 11am California time, or second day, at your cost.
If you receive a box that is visibly damaged don't open it, refuse the shipment and have it returned for replacement by calling UPS 1-800-742-5877.
Flint River Ranch Delivery Locations
Flint River Ranch cat food and dog food home delivery orders ship via UPS to all 50 states in the USA: Alabama, Arkansas, Arizona, California, Colorado, Connecticut, District of Columbia, Delaware, Florida, Georgia, Iowa, Idaho, Illinois, Indiana, Kansas, Kentucky, Louisiana, Massachusetts, Maryland, Maine, Michigan, Minnesota, Missouri, Mississippi, Montana, North Carolina, North Dakota, Nebraska, New Hampshire, New Jersey, New Mexico, Nevada, New York, Ohio, Oklahoma, Oregon, Pennsylvania, Rhode Island, South Carolina, South Dakota, Tennessee, Texas, Utah, Virginia, Vermont, Washington, Wisconsin, West Virginia, and Wyoming — no shipping is available at this time for outside the USA. Customers in Hawaii or Alaska can order Flint River Ranch from this Flint River Ranch site.
Flint River Ranch delivers to all cities and locations, including: Atlanta GA*, Denver CO*, Los Angeles CA*, San Francisco CA*, San Diego CA, New York NY, Chicago IL*, Columbus OH*, Dallas Fort Worth TX*, Houston TX, Austin TX, Seattle WA*, Portland OR, Salt Lake City UT*, Phoenix AZ, Scottsdale AZ, Kansas City*, Jacksonville FL, Tampa FL*, Pittsburgh PA*, Keene NH*, Philadelphia PA, Riverside CA, Sacramento CA, Minneapolis St Paul MN*, Miami FL, Indianapolis IN, Detroit MI, Flint MI, Milwaukee WI, Cincinnati OH, Cleveland OH, Birmingham AL, Memphis TN, Nashville TN, Louisville KY, Boston MA, Virginia Beach VA, Charlotte NC, Raleigh NC, Greensboro NC, Columbia SC, Charleston SC, Buffalo NY, Washington DC, Baltimore MD, Providence RI, Hartford CT, St Louis MO, Little Rock AR, Dayton OH, Akron OH, San Antonio TX, El Paso TX, Oklahoma City OK, Las Vegas NV, Omaha NE, New Orleans LA, Boise ID, Billings MT, Bozeman MT, Cheyenne WY, Albuquerque NM, and many more (asterisks next to cities above denote major Flint River Ranch distribution centers).
Flint River Ranch Returns
Flint River Ranch offers a total satisfaction guaranteed 30-day return policy under which FRR will refund the original purchase price for any Flint River Ranch food or product returned via prepaid shipping within 30 days of customer receipt of order.
Products for return need to be shipped to the closest of the two main Flint River Ranch regional warehouses:
West Coast: (Denver, Colorado): PSI Packaging (Flint River Ranch), 4040 S Holly St Unit 20, Denver CO 80216

East Coast (Atlanta, Georgia): Pet Direct USA (Flint River Ranch), 4725 Fulton Industrial Boulevard, Atlanta, GA 30336
To initiate a return, contact FRR toll free at (800) 354-6858 or email FRR Returns for a RAC (return authorization code) — this RAC is required before a return can be processed. Flint River Ranch will provide return instructions. A copy of the original invoice, the RAC number, and a statement for the reason of return need to be included with the return shipment.
All "Automatic Shipments" returned will result in the cancellation of future auto-ships unless FRR is contacted to reinstate an adjusted Auto-Ship schedule.
If a UPS Return Call Tag request is needed, the cost of the call tag will be deducted from any refund or credit.
For all orders past 30 days of original purchase, please contact the FRR Call Center at (800) 354-6858 for additional return guidelines.
CONTACT FLINT RIVER RANCH
Flint River Ranch Headquarters
245 Hembree Park Dr Suite 110
Roswell GA 30076
Call Toll Free:
800-354-6858
E-mail:
Information -
info at frrco.com
. Order questions -
orders at frrco.com
E-mail Us at FFRR, LLC:
ffrr at flintriver-home.com
Flint River Ranch Dog Foods Flint River Ranch Dog Treats Flint River Ranch Cat Foods